Luckily this is not a common question since most customers do backup their QuickBooks before transferring from GetLinked software. However, when someone does not backup and needs to delete a lot of transactions it can be a long and hard "manual" process in QuickBooks. You do have some options though.
First, ALWAYS backup your QuickBooks data before using the "Transfer" feature in GetLinked software. GetLinked Software does pop up a warning at the beginning of the "Transfer" process in all modules to remind you to backup before using the "Transfer" feature (ex. Payroll transfer warning in GetLinked):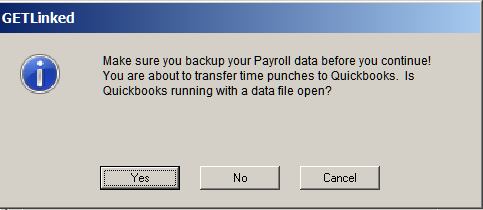 We can only support GetLinked software and do not support effects that can happen in other manufacturers products.
Your options are:
1. Manually delete the transactions in QuickBooks. Refer to your QuickBooks operators manual on how to do this if you are not familiar with it. Intuit did not build a feature in their software to mass delete transactions, therefore you have to delete each transaction individually.

2. We have found third-party programs on Intuit's marketplace that serve this function. We have provided you a link to this site below:
Intuit Marketplace.

WE DO NOT ENDORSE OR RECOMMEND ANY OF THESE PRODUCTS AND ARE NOT AFFILIATED WITH THESE MANUFACTURERS IN ANY WAY!
GetLinked Software