Yes, GetLinked Software has a "Stand-Alone"
payables
module that you can use at each of your locations.
The APLink (Accounts Payable) module allows location managers to input all of their invoices (vouchers) from suppliers or vendors right at the store and transfer them to the corporate office. Those transactions (vouchers) can then be electronically imported into your accounting system for payment. The subscription price is the same as all other GetLinked Software modules.
If you already have an active GetLinked Software Subscription (GSS) you can see how this module functions yourself:
1. Start GetLinked Software.
2. Click on the "APLink" icon
3. Choose Single Voucher Import.
You can see how managers use this window to enter invoice
totals
and the
details
(ex. Dairy, Paper, Janitorial, etc.) all on one screen. These invoices can be transferred any time you want (ex. daily, weekly, monthly, manually, etc.) basis and GetLinked Software will be validate and transfer them into your Accounts Payable system for you.
The following screen shows the total and detail amounts for multiple transactions: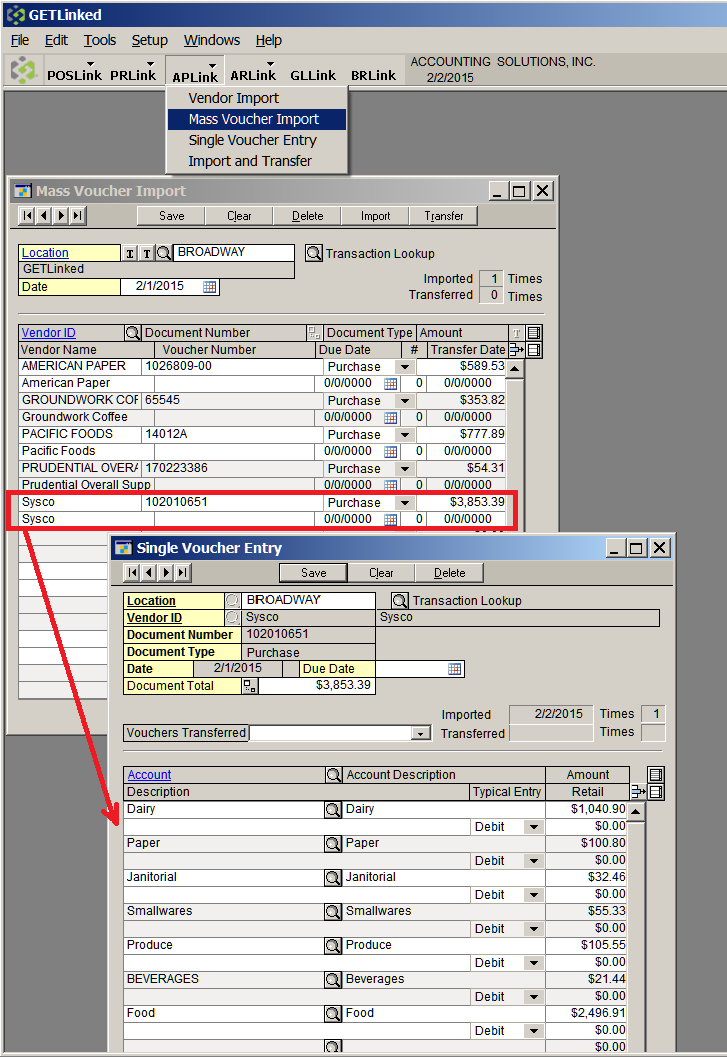 GETLINKED APLINK MODULE ALSO:
Interfaces to many existing "point of sale" and "supplier" systems such as USFoods, Sysco, CBORD, Foodtrak, Micros, Aloha and more. If you purchase an annual subscription and decide later to switch between systems (ex. switch from USFoods to GetLinked Stand-Alone APLink module) there is no additional charge.
To purchase the APLink module or see the specific
payables
systems available click here:
Buy Now
.
Please review other Forum topics for more details:
Does GetLinked Software Accounts Payable module import Summary or Detail Invoice (Voucher) data?